Outdoor living continues to gain popularity. Outdoor living areas are designed, furnished and decorated in such an impressive way that they rival many interior decors. Outdoor living areas frequently feature more than one specifically purposed area. It is popular to have a conversational furniture grouping where friends can gather. Many outdoor living designs also include a dining area and kitchen or grilling section. If you strolled through the backyard of many homes, you would probably find a small section of the lawn or garden that is designed as a personal retreat where silence and solitude are the intended purpose of the space.
The furniture you select for your outdoor living space can be reflective of your interior decor or go in a totally different direction to give it more of a vacation-like feel. It's essential that your furniture have quality outdoor upholstery fabric. You need a fabric that can withstand weather-related elements that are typical of spring, summer and fall.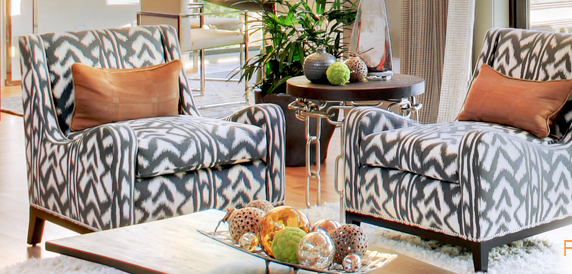 You do not have to compromise on beauty in order to obtain durability when it comes to outdoor fabric. You can find outdoor upholstery in an array of solid colors. Choosing a solid color fabric gives you the opportunity to bring excitement to the decor using accents items that feature bright floral prints, bold geometric designs, tropical themes, natural themes and numerous other design themes. You also have options that feature more subtle and serene outdoor fabric pattens that add sophistication and elegance to your outdoor living design.